On 20th April our Runners set out to run Two Oceans Half and Ultra Marathon 50th Year. In 1970 only 26 runner participated, this year over 30 000. What a race it was!!!
On Friday they sent out emails to advise all of us that we will not be running the gorgeous Chapmans Peak due to the safety of the runners. This made all the runners go into a frenzy to relook the route as we were running up Ou Kaapse weg. So we all had to adjust our strategy for the day which got some people all hot and bothered. Even with the route change all our runner did brilliantly on the day.
What a great result KRC, we had 27 Runners complete the 56km and 11 finish the 21km. Well done to each of you that got up and completed your goal.
OMTOM 21km Results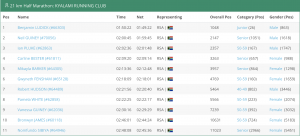 OMTOM 56km Results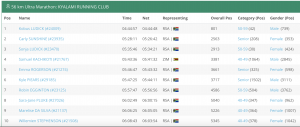 One BIG thank you to all our supporters on the road. You wont know hum much it means to us to see that friendly face when things are going good or bad.
Hope you are all recovering well:)